CANVAS8 | UOMA: SPECIALIZED CARE FOR DIVERSE SKIN TYPES
"The Fenty Effect" has put pressure on established beauty brands to better cater to minority consumers – but true inclusivity means going beyond shade ranges. Recognizing that different types of skin require different types of care, UOMA Beauty's products address diverse needs.
UOMA effectively demonstrates what it takes to make a mark in the current beauty industry. "To start with, any form of inclusivity/diversity was seen as a good thing, but when it's obviously tokenism, it feels inauthentic. It should go beyond a box-ticking exercise," says Hall. "Brands have to start their inclusivity from the word go, so it's not even a conscious process – it's just what happens to ensure they're talking to every single consumer." While showing diversity in communications is a solid start, if this isn't reflected in the efficacy of the products, brands may be seen as missing the mark.
CANVAS8 | WOW COLOUR: BEAUTY EMPORIUM FOR CHINESE GEN Z
WOW Colour has dazzled Chinese shoppers with a relatively simple formula, finding its niche in a national industry that was worth more than 262 billion yuan (£28.7 billion) in 2018. Leveraging innovative space design and creative displays with trendy and more niche national brands, it nails a unique offline shopping experience.
As a large store found in shopping malls, WOW offers online-only local brands an offline home and a new point of discovery for shoppers keen on 'Made in China' products. They're now open to a lot more new, niche brands and the value they can deliver."... WOW is leaning into consumers' willingness to try new products from smaller, more niche brands over the larger, more established ones.
CANVAS8 | STARFACE: ACNE STICKERS FOR THE SOCIAL MEDIA SAVVY
The Hydro-Stars are designed to be worn for a minimum of six hours – when they turn opaque, they've done their job and can be removed. As a generation that has grown up online and using social media – 45% of American teens are online "almost constantly" – the pressures of puberty have only been enhanced, with 29% feeling the pressure to look good. [9][10] But with the rise of perfection fatigue and flawless, curated virtual presences, Starface is among a crop of new brands diverting the narrative of having to appear 'perfect'.
By transforming the discourse around acne from a shameful taboo into something fun and lighthearted, Starface is joining the ranks of many other Gen Z-focused skin and bodycare brands that champion imperfection and diversity, while also being rooted in internet culture.
CANVAS8 | HOW ARE BEAUTY BRANDS GOING BEYOND SKIN-DEEP?
The beauty sector has evolved from an aspirational pursuit of perfection, to celebrating uniqueness and encompassing health and wellness. But as Gen Zers expect the products they buy to align with their values, beauty brands are having to go deeper below the surface to engage them.
Beauty brands are increasingly bringing a sense of emotional empowerment through more conscious communication strategies on social media and in traditional advertising.
Gen Zers especially have strong moral values and will only support those brands that align with their interests; it's why nearly 50% of Gen Zers say they "would pay extra for a product that is consistent with the image [they] want to convey." And when it comes to beauty, wellness, sustainability and diversity are at the front of their minds. "Therefore, understanding what they think and feel, and how they engage with each other is equally important to connecting with those audiences," Steuer continues.
https://www.canvas8.com/content/2019/05/23/beauty-skin-deep.html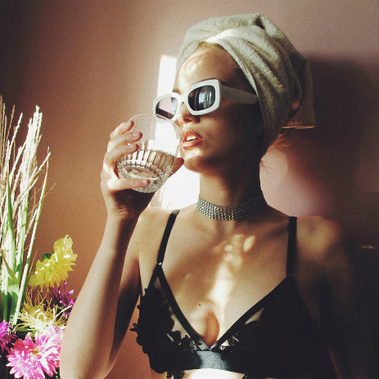 CANVAS8 | KAYALI: LUXE SCENTS MADE FOR MIDDLE EASTERN LAYERING
Created by online influencers Mona and Huda Kattan, luxe perfume brand Kayali is introducing the world to Middle Eastern traditions. It's appealing to young beauty buyers who are losing interest in celebrity-endorsed scents but who remain highly receptive to tips from social media personalities.
The Middle East is one of the most youthful regions in the world, with 60% of the population aged under 30. By targeting these young, aspirational individuals who have shown a willingness to experiment with niche brands, Kayali is establishing brand-customer relationships early on in their 'spending career'. With research from 2017 finding that 52% of Middle Eastern shoppers use social media to read product reviews, while 50% use such platforms to discover new brands and products, Mona and Huda's strong digital presence may provide an easy segue from online browsing to online buying.
As a luxury brand that represents a fusion of American ideas and Middle Eastern values, Kayali's appeal in the region is that it delivers Western luxury in a way that doesn't clash with the local culture. Almost 90% of online purchases in the Middle East are shipped from abroad and Kayali is tapping into this thirst for 'outsider' brands. It's 'foreign' in that it's imported but still fits with the values and existing fragrance preferences and rituals of local consumers.
https://www.canvas8.com/content/2019/08/13/kayali-fragrance.html